Production Efficiency Programme
Feed accounts for the largest costs of animal production. Ensuring high bioavailability so an animal can use the most nutrients possible from its feed for performance rather than for other physiological processes can significantly reduce production costs and increase profitability.
Production efficiency means supporting the animal to reach its full genetic potential and thus the highest possible level of performance and feed efficiency while maintaining the appropriate health status. Selko's Production Efficiency programme aims to improve multiple aspects such as more efficient use of raw materials, optimize feed conversion ratio, improve performance, lower production footprint, improve uniformity, and lower feed costs.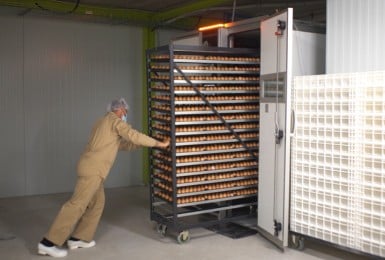 Producing enough animal protein whilst at the same time keeping animals healthy and assuring healthy margins can be a challenge. Lowering production costs, in combination with increasing animal performance without sacrifices on animal health and welfare is the most effective way to safeguard margins. Other ways to improve profitability is through improving uniformity of animals, improving carcass yield through more efficient processing. By optimizing the entire production chain, the environmental footprint can be lowered, providing the opportunity to create a sustainable, and more profitable animal production market segment.
"Production efficiency is about fine-tuning the entire chain of production. My aim is to help animal producers achieve the best at the most efficient way without endangering the health of the animals."
Products
One of the important elements in order to efficiently achieve genetic potential, through Selko solutions are high-quality products. In order to confirm the efficacy of our solutions, Selko conducts validation studies and research partnered up with universities, institutes, key opinion leaders, and (potential) customers in many parts of the world.
Depending on the analysis of customers' baseline measurements and objectives, we determine key performance indicators such as uniformity, growth performance, production costs, and improve footprint.
The range of solutions is offered via an integrated approach, for example a nice combination between our NutriOpt services and feed additives integrated into animal models for more efficient formulation of raw materials. In order to improve nutrient absorption, our stable, highly bioavailable trace minerals are proven to optimise health, wellbeing, and performance. Last but not least, our synergistic blends of organic acids, either via feed and/or water helps to improve feed conversion ratio through empowering gut health functionality.